I fucking hate Dave Matthews. This fucking retard doesn't sing he makes sound effects that slightly resemble words. Tootle te lootle de toot. FUUUUUUUCK!!!!! You sound like somebody found a Canada Goose and is now standing on his dick while he honks and toots in pain. I cannot handle this shit this early in the morning. All I want to do is eat my Bob Evans breakfast in peace with my newspaper and without a migrain caused by his tootle de oot'ing.
Speaking of bad music... I would like to propose a law. My law would make it a 1st Degree Felony to play anything by Hootie and The Blowfish. That's right, playing any song by Hootie and the fucking Blowfish, EVER, would result in immediate incarceration for the perpetrator and the destruction of that copy of the song.
Dumbass name of the day! I shit you not... there is a person on facebook who's name name is Terrika JoQuisha and I won't put her last name here for no good reason. I propose that if you are willing to name your child something such as Terrika JoQuisha Jameriquanda Lafawnda Waaaatson you should be FIXED! FIXED by snipping, tying, removing, and burning your baby making parts and forbidding your ass to be within 3,000 meters of anything even resembling a baby, small child, or creature that is capable of making a baby or small child.
U.S Forces are pulling out of Baghdad in force now. Iraqis are celebrating like fiends. This is most likely the point that marks the beginning of the implosion. That's right, I said it, Iraqis are celebrating the beginning of their own destruction. Do I blame them for celebrating our troops leaving? No, I don't, they're only thinking about the infidel leaving and they're slightly hopeful that the militants who own the country won't kill the fuck out of them all as soon as we leave. Yeah I called the U.S. The Infidel Retard. I have little more faith in my own country than I do in Iraqis. Don't misunderstand me, I do not insult American troops, it is the American government, and a good number of the American people who think peace in the Middle East is ever possible.
The American fascination with Michael Jackson for the past couple days is proof that the priorities of this country are so far out of whack they aren't even slightly relevant. I would be hopeful too if I were Iraqi but my hope would be unfounded. This is not going to go well but Mao Tse Obama wants to be sure to appease the retards who voted for him sooooo out we go. Personally I'm alright with that because I don't care even a little if they kill each other until there's a single Iraqi left alive. Then we should pit the Afghans against one another and the winner of that can take on the last Iraqi for an overall winner.
I honestly don't think we should spend a single cent, not one more penny on the well being of Iraq or any other Middle eastern country. I say isolate them completely and ignore them. If they sort themselves out great, if they destroy each other great. Saddam was the one stabilizing factor in that shithole and he may have been an asshole but he was not a gung ho Sharia Law asshole so he was a positive feature in that region, at least for our purposes, and removing him was a major mistake. This is not going to turn out well in the end but eh, who gives a shit. One stupid president further fucking up the mistakes begun by another stupid president, such is American politics.
From the local television news. They're putting up more cameras on the Canadian border to prevent illegals crossing the border. Well fuck me with a traffic cone! It's about damn time they start cracking down on those goddamn Canadians coming down here to escape socialized healthcare. We need to keep them oot! I'm all aboot fairness but this country is full of canucks already and they're raising our crime rates. They come here and live 43 families to an apartment and form gangs like The Latin Kings, The Surenos, Nortenos, Mexican Mafia, Mara Salvatrucha, Nuestra Familia, etc., etc. Fucking Canadians! You put in that shit to keep them out America, good job staying proactive!
"Style yourself after our fashion forward first lady" says the local news.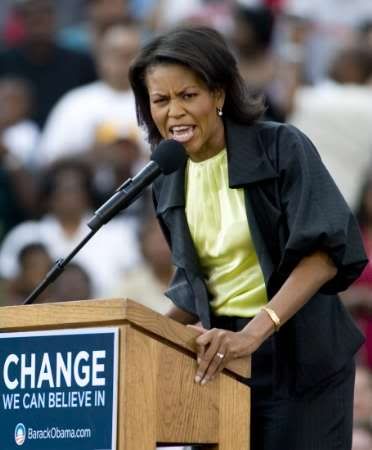 .
MMMMM MMMMM J. Crew Man Beast, gimme some of that! The bitch looks like she snacks on small children. "Fashionista"??? More like fashion disasterista. The only person she's inspiring toward appropriate fashion is librarians.