Afghan children are being recruited as suicide bombers, drawn into the military and used for sex by armed groups, a senior official with the UN children's agency said on Sunday. But the conflict means that children in more than 60% of the country cannot not be reached by Unicef workers, the agency's deputy executive director Hilde F Johnson said on a visit to Kabul.


"It is clear that there are stories and allegations of recruitment on the different sides, but we don't have enough documentation to say how bad it is," Johnson said.
A Unicef task force was set up this year to document the problem and Johnson said it was pushing the Afghan government to better verify the ages of the men it was taking into the armed forces.


There have been reports that men under the internationally accepted age of 18 are being recruited. More than 400 under-age soldiers were demobilised in a government programme in 2003, two years after the fall of the Taliban regime, according to the United Nations. There were also cases of children being used as suicide bombers by insurgents, a trend seen in Iraq, but the numbers had not been established, Johnson said.


After the fall of the Taliban, "people were under the assumption that Afghanistan was venturing into the post-conflict phase and that some of the aspects that were hitting children hardest would go down", Johnson said. "But I think there is a reality check that has kicked in amongst all players that this is not that case and we need to be able to respond properly in terms of verifying the violation of children's rights in Afghanistan."


Afghanistan meanwhile was different from other post-conflict countries, in that more boys were being abducted for "sexual services" than girls, with cases across the board, including in the government forces. Children were also being killed in insurgent and military action, with more than 230 schools attacked in the year to June.
I'm sure they're wonderful people, they just like to violate little boy anus to relieve tension. We should be more culturally sensitive here in the United States of The Great Satan. Maybe little boys in Afghanistan like sore bums. Who are we to say that their way of life is wrong? That's what people tell me all the time.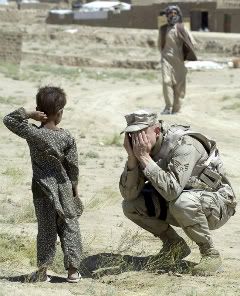 Look, this Afghan child is hitting on our marines. Would you expect a man here to turn down the flirtatious glance of a hot, young college coed? No you wouldn't. The Afghan hot young coeds just happen to be 13 and male.

Full Article Here