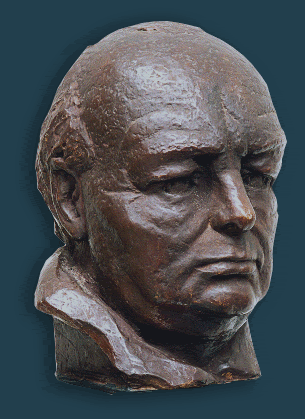 A bronze bust of the former prime minister Sir Winston Churchill, which British Government loaned to George W Bush in the wake of the 9/11 attacks as a symbol of the strong transatlantic relationship, has now been handed back.
The Telegraph quoted a British Embassy spokesman, as saying: It was lent for the first term of office of President Bush. When the President was elected for his second and final term, the loan was extended until January 2009. The new President has decided not to continue this loan and the bust has now been returned. It is on display at the Ambassador''s Residence.
The bronze bust is a Sir Jacob Epstein creation worth hundreds of thousands of pounds. When British officials offered to let Obama continue hanging it in the White House, his reply was Thanks, but no thanks. Obama openly cited the words and works of his hero Abraham Lincoln and now since taking over the presidency, a bust of Lincoln sits in the Oval Office.
The rejection of the bust has made some British officials nervous over how much influence the UK can wield with the new regime in Washington, and may force Gordon Brown to think about offering an alternative symbol of Anglo-American camaraderie when he visits Washington to meet Obama for the first time since he became President.
Article Found Here
How much influence the UK can wield? Hmmm, I'm not sure I care about that so much and I happen to like the UK, even though, sadly, they seem to be as fucked up as we are. My problem is the Obamessiah. Let me tell you a secret you fucking wanker! As soon as the rest of the world realizes that shit isn't going to change, that you're a goddamn retard too, the UK is going to remember this shit. It's nice that Obama likes the Lincoln and what not but big Abe isn't the black man's hero either. Sure the Abe-miester wanted to free slaves but then he wanted them to go back to Africa.
"If as the friends of colonization hope, the present and coming generations of our countrymen shall by any means, succeed in freeing our land from the dangerous presence of slavery; and, at the same time, in restoring a captive people to their long-lost father-land, with bright prospects for the future; and this too, so gradually, that neither races nor individuals shall have suffered by the change, it will indeed be a glorious consummation."
My point?... Obama doesn't know his history? Maybe... More likely it's that Obama is just another rash jackass with no foreign policy experience and no business running the oval office. All I hear is complaints about racism and the only racism is coming from the left (black AND white) radicals who make everything a race issue. If you want racism to die in American shut the fuck up and stop being racist you moronic Obamatrons.
Sending back a gift from one of the only countries who doesn't fucking hate us and actually backs us up is a bad fucking idea. As much as I hate to see our country in the disaster that idiot Bush caused, I would hate more to see Obama succeed. Selfish, yeah, but I'm sick of the "fuck off whitey, we have a black president" bullshit getting thrown in my face. Fuck your grandfather, and fuck you Obama, you'll never be half the leader Churchill was.