I decided to shave tonight. Wow, that's great you're thinking... good job. Not so fast there with the praise my friends. This didn't go well. I usually don't shave, ever, technically. I just use a beard trimmer with no guard on it to keep that permanent 5:00 shadow because I'm edgy and hip like that or some shit. Anyhow, for some reason I decided to bust out the razor and get to the task at hand since I just got out of the shower and it's usually safest at that point. I was wrong! Let me tell you about the my Bic Comfort Advance razor.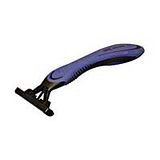 Oh the pain and the horror of it all. Half way through the task I'm looking like I am not coming out triumphant in a far less homo erotic version of this.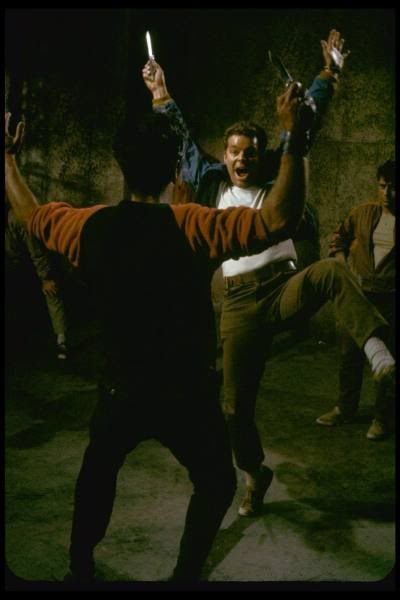 Really not a pretty sight at all. I'm still bleeding out like I just finished quail hunting with Dick Cheney and my face feels like I fully removed my entire epidermis though in appearance it's only chunks. I would have probably come out in better shape having received a shave from this guy.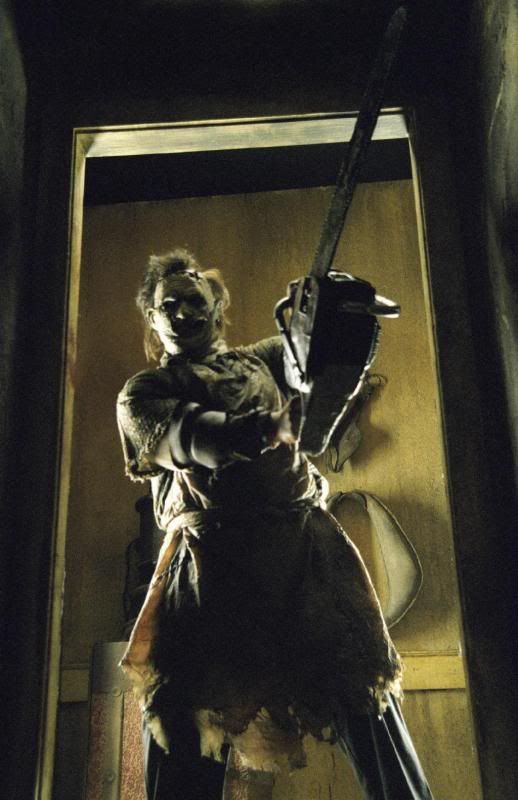 This is why I've determined that I either need to just never shave or do it every day. It turns out that I just don't have that 5 minutes each day that I'm willing to spend on such a trivial activity so I think I'll wait several more months before I try it again.
On another note. Anybody out there love guitar hero? I don't, I think it's fucking lame. If I'm going to fritter away my time with frivolous activities I'll stick with the old stand by and grab the nearest broom while I dance around like a jackass pretending to thrash to AC/DC tunes like an autistic kid having a fit. That's just me though. If you love guitar hero but Poison or Boston tunes are just too hardcore for you. I totally understand. Jesus just wouldn't approve of such wanton abuse of hairspray mixed with satanic 80's rock tunes and you're privy to that. Good man, stick to your principles. Finally there is a game for you.
Put down that bible, stop torturing yourself with impure thoughts about that underage boy next door, ohh yes son, salvation is nigh, it's Guitar Praise! Now all you Jesus junkies can rock out with your cock out to the most ragin' God tunes of our time. I don't have a fucking clue what those might be but I'm sure they talk about getting saved and leaving pamphlets on my fucking doorstep and all that awesome shit that Jesus likes to do. Just don't get too carried away and pull a Scott Stapp.
Random thought... I don't care what anybody says, Christina Ricci should be in more films. Yeah I know she did "Pumpkin" but I forgive her for that because we all make horrifying mistakes. She's got a bit of a bad girl thing going on and that's hot, plus I dig the tattoos.
Daddy Yankee has a new fragrance... ... ... Does anybody know who the fuck Daddy Yankee is? I do, I lived in Puerto Rico for a short while and the only thing on the fucking radio was goodamn 80's cock rock tunes and Raegetton. For those of you not familiar with this wonderful brand of music, it is like Puerto Rican rap except instead of stealing beats from pop stars these people write EVERY FUCKING SONG to the exact same beat. There may be thousands of songs that all sound exactly the same but with different words. This is the perfect musical atrocity in all it's glory. Daddy Yankee is one of the more famous "artists" to use the term as loosely as possible.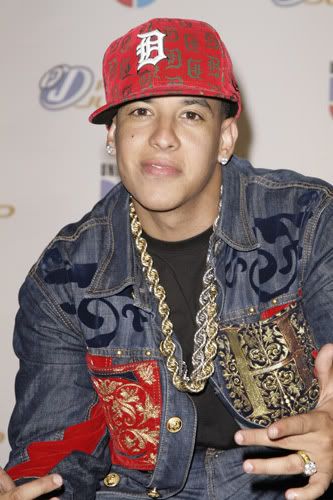 I mean shit, who the hell wouldn't wanna smell like a douchetastic Puerto Rican rapper with the fashion sense of a retarded rodeo clown with a Caesar bowl cut? I personally will be asking Santa for 26 bottles for Christmas. The ladies will swoon all over me when I walk down the street in a cloud of olfactory assault. What woman could resist the combination of old rum, sweat, and rotten fast food, with a hearty helping of genital warts, all heavily baked for a week in the tropical Puerto Rican sun? I will finally be able to pick up two or three skanks wearing the Britney Spears fragrance "Rotten Cheetos and Trailer Mold." She'll mouth off about the 12 kids that I don't support, I'll punch her in the jaw, Johnny Law will not be amused, and she'll scream take that sum bitch away while she waves a kitchen knife in the air. Come to think of it maybe I'll just get a can of axe body spray, the commercials make that fucking over the counter nerve gas look a lot safer.
I see Burger King has come out with a new sandwich. The Angry Whopper has pepper jack cheese, jalapeños and "angry onion rings" are added. This should be a delightful twist for all of the fast food junkies in America who just can't seem to grow a big enough ass.
When will the madness stop? How much fucking fatter as a country must we get before the whole of the United States just fucking sinks into the ocean?
What the hell will terrorists fly shit into when it's all under the Atlantic? Duct tape will not hold the plastic to your windows to help you if they do attack from under water! Has anybody ever heard of a fucking salad? How much more shit can we cram onto these big fucking calorie filled grease patties before we stop buying it? I guess we're not there yet. So if you're trying desperately to earn your own postal code and you love to sweat offensive food odors this is the burger for you. Not only can you gain 12 pounds in one sitting but you can give yourself such offensive flatulence that even your apathetic family members won't be able to stand being in the same county as your nasty ass. Bon Appetite lardass!
As if the burger wasn't enough. As if I don't already see enough of this shit at walmart.
Toyota has come out with and is testing the "Winglet"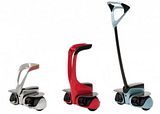 It's official, the Japanese are actively attempting to turn us into fat lazy blobs who won't be able to stop eating long enough or walk far enough to oppose an invasion. I hope this thing is super heavy duty. I have been hoping for years that somebody would invent a way that I could both support my dream of never having to walk again, and becoming 95% less attractive to the opposite sex without having to eat obsessively 12 hours a day for 5 years. Thanks Toyota for making all my fucking dreams come true you bloody wankers!