Alaska Gov. Sarah
Palin says she'd come out ahead if she went one-on-one with fellow jogger President Barack Obama in a long run
, according to an interview published online Tuesday.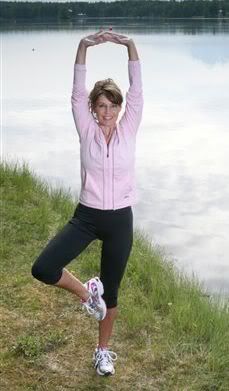 "I betcha I'd have more endurance," she told Runner's World magazine.
That's great... truly something special.
"My one claim to fame in my own little internal running circle is a sub-four marathon" in Anchorage, she said, referring to her 2005 sprint in the Humpy's Marathon in which she beat the four-hour mark by 24 seconds. "What I lacked in physical strength or skill, I made up for in determination and endurance," she said.
That is one hell of a claim to fame alright. It's too bad that all the determination in the world can't fix stupid.
The president, who stays fit by starting his day with a workout in the White House gym, is better known for his passion for basketball and has been a frequent golfer in recent weeks. Obama, however, recently acknowledged that he hasn't completely kicked his smoking habit, telling reporters that he does still "mess up" on his pledge to quit smoking.
I hear he's a mighty fine basketball player too, almost as good at that as he is at bowling and being president.
Might Obama join the workout war of words? A message seeking comment Tuesday from the White House by The Associated Press wasn't immediately returned.
I hope he does get involved in this with Palin. If he's concentrating on beating her in a "jogging" race (anybody who's a runner will get that crack) then he won't be concentrating on destroying our economy more efficiently than he already is.
Palin, a 45-year-old former beauty queen (who has a problem with books that aren't the bible) became the first woman and youngest person to be elected Alaska's governor, is featured in the August issue of Runner's World.

She was dubbed the country's "hottest" governor when she stole the show as U.S. Sen. John McCain's presidential running mate in 2008.
Again, too bad hot has nothing to do with ability to not be a complete backwoods Alaska idiot.

Palin said the exercise wasn't just a body thing and that it helps keep her emotionally and mentally in shape.
Mentally in shape... Palin... Really?
If I have one suggestion for the running governor of Alaska (who's now resigning that post) it's keep running and stay the hell away from politics... FOREVER!