I've been slacking on my blog lately many of you might have noticed, for this, I'm sorry. I will sincerely try to do better but I've been quite busy lately. I came across this gem a week or so ago and it happened longer ago than that but I hadn't heard about it so I'm posting it now. First I must say that I dislike Iran more than your average person. Even the most socially of retarded regimes does something now and then that I totally agree with... this is one of those.
I'm not a feeling sorry for many people kinda guy but this one caught my attention. There are certain subjects that I'm more militant about than others. Shitty treatment of domesticated animals is one, and abuse of the fairer sex is the other. My mother taught me to respect women and my girlfriend is the most precious thing in my life so this one struck a cord.
TEHRAN, Iran (CNN) -- Ameneh Bahrami is certain that one day she'll meet someone, fall in love and get married. But when her wedding day comes, her husband won't see her eyes, and she won't see her husband. Bahrami is blind, the
victim of an acid attack
by a spurned suitor.
Bahrami says she first crossed paths with Movahedi in 2002, when they attended the same university. She was a 24-year-old electronics student. He was 19. She never noticed him until they shared a class. He sat next to her one day and brushed up against her. Bahrami says she knew it wasn't an accident.
Bahrami said that over the next two years, Movahedi kept harassing her and making threats, even as he asked her to marry him. "He told me he would kill me. He said, 'You have to say yes. On a November afternoon in 2004, Movahedi's threats turned to violence. That day at 4:30 p.m., Bahrami left the medical engineering company where she worked. As she walked to the bus stop, she remembers sensing someone behind her.
She turned around and was startled to see Movahedi. A moment later came the agonizing pain. Movahedi had thrown something over her. What felt like fire on her face was acid searing through her skin.
The acid seeped into Bahrami's eyes and streamed down her face and into her mouth. When she covered her face with her hands, streaks of acid ran down her fingers and onto her forearms. Two weeks after the attack, Movahedi turned himself in to police and confessed in court. He was convicted in 2005 and has been behind bars all along. Bahrami's lawyer, Ali Sarrafi, said Movahedi had never shown any remorse. "He says he did it because he loved her," Sarrafi said.
Attack victims in Iran usually accept "blood money": a fine in lieu of harsh punishment. With no insurance and mounting medical bills, Bahrami could've used the cash, but she said no. "I told the judge I want an eye for an eye," Bahrami said. "People like him should be made to feel my suffering."
Bahrami's demand has outraged some human rights activists. Criticizing acid-attack victims is almost unheard of, but some Internet bloggers have condemned Bahrami's decision. "We cannot condone such cruel punishment," wrote one blogger. "To willingly inflict the same treatment on a person under court order is a violation of human rights."
Late last year, an Iranian court gave Bahrami what she asked for. It sentenced Movahedi to be blinded with drops of acid in each eye. This month, the courts rejected Movahedi's appeal. Bahrami's lawyer, Sarrafi, said the sentencing might be carried out in a matter of weeks. He said he doesn't think Bahrami will change her mind. Neither does Bahrami.
She has undergone more than a dozen surgeries on her badly scarred face, but she says there are many more to come. She can't afford to pay for her medical care, so she's using the Internet to raise money. "If I don't do this and there is another acid attack, I will never forgive myself for as long as I live," she said.
After 17 surgeries to repair her face, Bahrami has no pity for Emovahedi: He made fun of me in front of the court she stated. Now he is whimpering for mercy, asking me to leave him at least one eye. But it is too late for that.
Before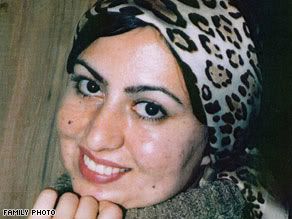 After
I despise human rights activists. I honestly do. As I've said before, there are some actions that one undertakes that deserve the loss of any rights and this is one of them. How can one put a price on their sight, on their looks, on the happiness, their very well being? This man will be getting what he deserves. In fact, he doesn't deserve to simply be blinded, he deserves to be maimed in the same manner that his victim was. It takes a country as terrible as Iran to actually employ a fitting punishment for once.
I normally agree that most of the crap they punish and the punishments for it are too harsh (i.e. stoning for adultery, caning, etc.) but this is not one of those cases. I sincerely hope she doesn't back down and does stick with her decision to carry out the punishment. The disastrous legal systems of the west are for once a shining example of how the sort of activism that condemns this sort of punishment for such heinous crimes keeps any sort of positive step toward stopping such crimes in the future from being reached. You won't hear this often... Good Job Iran!